Flotation Equipment for Must Purging
Goal of all winemakers seeking higher quality of wine is lowering of content of mud and free phenols on processing of grapes and wine must. Flotation is most suitable way to achieve the goals due to continuous purging process. On using the method, the must is firstly pressure saturated with gas, resp. air, and then the pressure is released. Thus the releasing air or gas creates fine bubbles, which bound the mud particles and the particles go upward. Compact mud cake is created on the must level. Thus the flotation is process contrary to sedimentation.
Adding of gelatine strengthens the mud cake and this achieves precise separation of the pure must from the mud cake. The purged must can be then pumped even after 12 hours.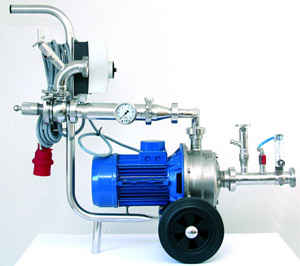 Flotation with fresh air in single tank by circulation method.
Very effective and economic method is flotation with suctioning of ambient air, instead of original use of a compressor. The method is very effective for oxidation of free phenols and thus their complete elimination, which significantly affects the increased quality of wine. The single tank circulation method enables flotation and pumping of purged must within one single tank. It is also possible to add the bentonite and CO2, as well as gelatine by means of special ball valve.
Advantages of Must Purging by Flotation
Quick and continuous processing of must
Significant decrease / elimination of free phenols
Increased clarity and amplified colour tones of wine
Zero risk of souring due to quick processing
Possible purging even red warmed musts
Residual mud does not exceed 1%
Relatively low purchase and operating costs
Simple and easy control
Technical Specification Table:
| | | | |
| --- | --- | --- | --- |
| Identification | Pump | Capacity L/hour | Power Consumption |
| ECO mini | Centrifugal | 800 - 1.500 | 1 kW |
| ECO spar | Centrifugal | 3.000 - 5.000 | 3 kW |
| ECO 10.000 | Centrifugal | 6.000 - 12.000 | 3,7 kW |
| ECO 15.000 | Centrifugal | 15.000 - 20.000 | 5,5 kW |
---